Solution Provider for Responsible AI - from Code to Society
AI Impact Assessments - EU AI Act Compliance Consulting -
Responsible ML Strategy & Implementation - Monitoring & Auditing Tools
our OFFER
AIEthica Responsible AI Pipeline: ​Value and Trust from Business Ethics to Model Risk Management
Mastering Responsible AI from A-Z
Responsible AI is a process, not a state. The complex steps to reach business value with AI have to be coordinated from business case, impact assessment, data strategy, model development and testing to deployment and model management. As a solution provider, we apply the best tools and frameworks to ignite AI value.

From ethical consulting of new projects, ethics training for developers, managers as well as regulatory support to day-to-day practical model risk management - AIEthica is your partner for your responsible AI journey - the european way.


Responsible AI consulting & training
Impact assessments
EU AI Act compliance
Model Risk Management Solution
Responsible AI monitoring
... and more
Securing your AI future - EU AI Act Consulting
In April 2021, the European Commission released a proposal for the regulation of AI, the Artificial Intelligence Act (AIA), with the goal to balance the benefits of AI with its risks. In the future, businesses providing and using AI as well consumers will be strongly influenced by the forthcoming AI regulation.

We help you navigate the complex issues of EU regulatory requirements and practical applications. Our network of regulatory lawyers, computer scientists, and business consultants provides guidance and practical support in all regulatory AI affairs.


Ethical AI & regulatory project consulting
Regulatory risk evaluation and reporting
Publications and public outreach
Getting Practical: Ethical AI Project Support
Many teams and businesses using or providing AI don't have the necessary staff or expertise to cover all the different parts of AI governance. AIEthica supports your team in every stage of the responsible AI journey. The modular service allows choosing different support packages depending on your situation.
Responsible AI workflow support
Data governance and privacy
Model Risk Management - Embedded Trust in​ an Algorithm-driven world
Model Inventory Management
Automated model testing & Validation
Auditable model documentation
Responsible AI Monitoring
Due to its complexity on all levels, responsible AI is a team sport. Model Risk Management and continous monitoring are requirements of the AI Act as well as other regulations. We partner with the best monitoring software providers to deliver the best option for our customers.

AI Governance Software
One platform to guide and govern the entire lifecycle of your AI. Bringing teams together onto one platform to mitigate risk, leverage your full potential, and turn intention into action.
Embed trust in your algorithms
Leverage an award-winning data science platform to accelerate model testing and validation, automate model documentation, and streamline your Model Risk Management processes..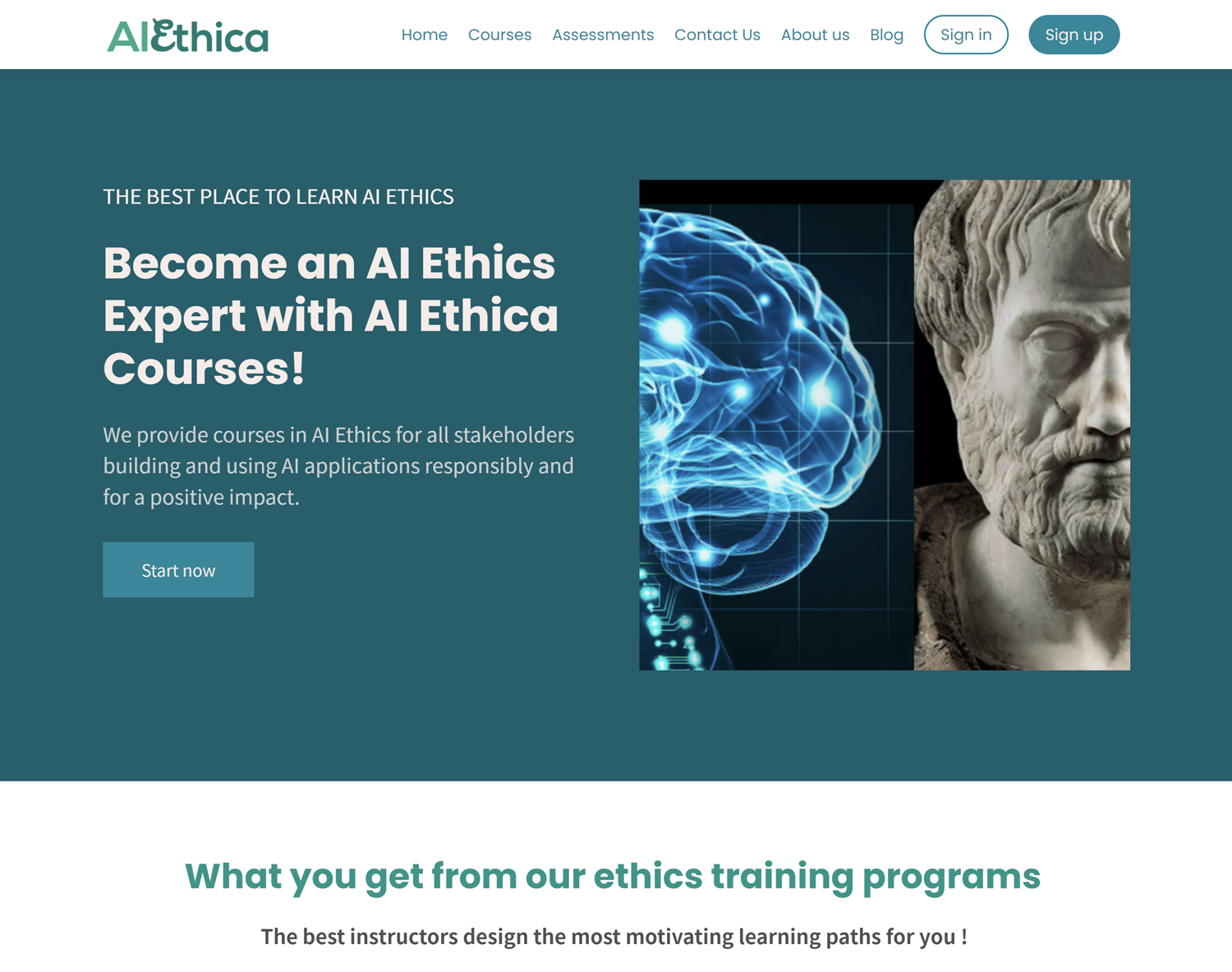 AIEthica Academy

Grow your AI Ethics expertise with courses available at the AIEthica academy. From algorithmic fairness to the ethics of Socrates, our courses keep you up-to-date with different topics in AI Ethics from the greek philosophers to the problems of today.
LEARN MORE
Get in Touch

Whether you're starting an AI project, need training for your employees or want to implement model risk management, we are happy to help.

Address:
AIEthica
Alte Dorfstrasse 24
CH - 8704 Herrliberg
Switzerland
Call us:
+41 (44) 790 17 14


We're looking forward to talking to you.
AIEthica ​Network

Welcome to our network of AI experts! We are looking for passionate individuals who are interested in exploring the possibilities of Artificial Intelligence.

If you would like to join our network, please fill in the form below. We will keep your information confidential and will only use it to contact you about opportunities related to AI.

We look forward to having you as part of our network and exploring the exciting possibilities of AI together.